Office Disinfection Services in Gaithersburg, Bethesda, Rockville, MD, Leesburg, Ashburn, Reston, Sterling, VA, & Surrounding Areas
At Proclean Air Duct and Carpet Cleaning, we provide professional office disinfection services, coronavirus disinfection services, and aerosol disinfection services to businesses and commercial buildings in Virginia and Maryland. With over 35 years of experience, it's our goal to create a healthy and hygienic environment for you, your employees, and your clients. With our team of skilled technicians and EPA registered cleaning resources, there's no job too big or too small for us to handle. With Proclean on your side, germs don't stand a chance!
Do you need home disinfection services as well? Proclean is available to provide disinfection services for both residential and commercial buildings.
GET QUOTE
Office Disinfection Services for Restaurants, Gyms, and More
If you own or operate a business then you have a responsibility to keep your workers safe and protected against harmful contaminants that can tarnish their work environment and compromise their health. If you're looking for the best of the best, then we've got you covered with Mediclean germicidal cleaners.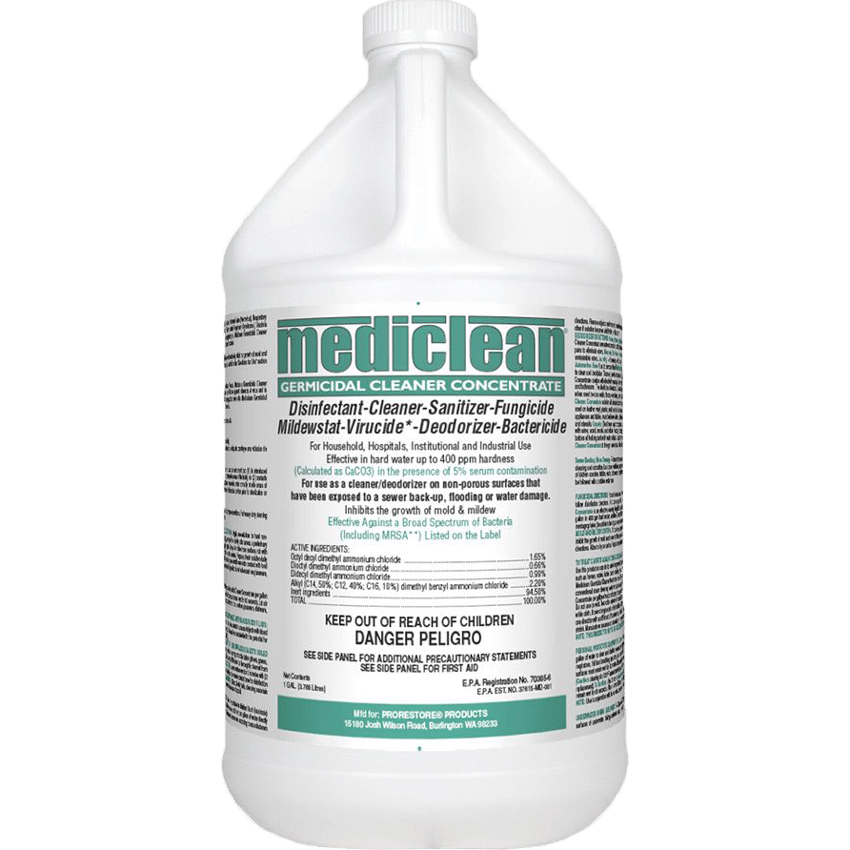 Mediclean is an EPA registered concentrate that cleans and deodorizes office surfaces. Combating an extensive spectrum of contaminants, Mediclean disinfects non-porous surfaces that accumulate bacteria, viruses, mold, and other threatening diseases such as Coronavirus, H1N1, and HIV.
We offer professional office disinfection services for businesses across state borders in Gaithersburg MD, Leesburg VA, Ashburn VA, Rockville MD, and the surrounding areas. Utilizing the most effective and powerful Mediclean concentrates, we provide aerosol disinfection fogging for a range of businesses that include:
Offices
Gyms
Restaurants
Hospitals
Hotels
Schools
Stores, and more!
Ready to Re-Open? Get Disinfection Services Today!
Call ProClean today for a complete HVAC System
Disinfection and Cleaning
Aerosol Fogging, Office Disinfection Services for Maryland and Virginia Businesses
Our team of skilled technicians are licensed, and insured. We bring to you and your office professional aerosol fogging services that break down concentrates into atomized droplets that disperse in your office environment, reaching a vast spectrum of surfaces. Not only do our office disinfection services aim to reach all areas, we utilize master EPA registered Mediclean concentrates that kill bacteria, mildews, and fungus. Mediclean is an affective office disinfection tool due to its many powerful features:
Fungicide: biological organisms that combat fungi and their spores.
Virucide: a physical/chemical agent that kills and deactivates viruses.
Disinfectant: a bacteria cleansing liquid.
Sanitizer: a germ-killing fluid that removes dirt and other microbes.
Mildewstat: a chemical agent that kills and prevents further growth of mildew.
Deodorizer: an absorptive substance that eliminates offensive odors.
At Proclean Air Duct and Carpet Cleaning, it's our goal to help you promote a safe and sanitary environment for your workers. With a BBB A+ rating, and National Air Duct Cleaners Association (NADCA) certifications, businesses in Sterling VA, Bethesda MD, Reston VA, and surrounding areas trust us to deliver quality office disinfection services that are professional and effective.
Contact

PRO

CLEAN
Proclean, an air duct and carpet cleaning services company, is a local family owned business. In business for over 35 years, we are one of the most experienced professional air duct cleaning and carpet cleaning companies in the Washington Metropolitan area, specializing in both residential and commercial properties.
Address
---
MD Office:
416 E Diamond Ave, Gaithersburg, MD 20877
VA Office:
44675 Cape Court, Suite 150-D, Ashburn, VA 20147