HVAC UV Lights in Gaithersburg, Rockville, Bethesda, MD, Leesburg, Ashburn, Sterling, Reston, VA, & Surrounding Areas
At Proclean Air Duct and Carpet Cleaning, we offer a range of services and products designed to improve indoor air quality for businesses and homes in Ashburn VA, Rockville MD, Sterling VA, Gaithersburg MD, and the surrounding areas. With HVAC UV light technology in our corner, it's our goal to promote a safer and more sanitary indoor air environment for your home, office, restaurant, hotel, or other business.
Do you need surface disinfection for your home or business as well? Proclean is available to provide home disinfection and office disinfection services throughout Maryland and Virginia.
GET QUOTE
HVAC UV Lights for Homes, Offices, Restaurants, and More
We provide the most up-to-date HVAC UV light products that combat germs, viruses, and other contaminants that can compromise the safety of your home, store, or business. Working with the most reputable suppliers in the industry, we offer effective UV germicidal light technology that is long-lasting and easily installed.
Featured Product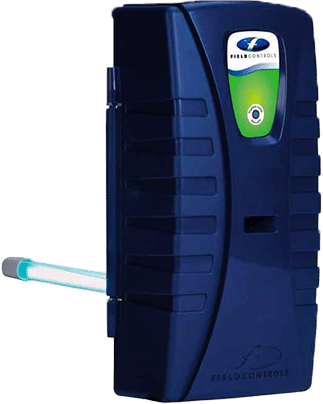 UV-12 & the Proclean Exclusive UV-GE12
The UV-12 light air purifier is a bacteria-killing, allergy air purifier that utilizes HVAC UV light technology that cleans AC coils from mold and other airborne contaminants. With an intensive UV lamp, the UV-12 kills bacteria for spaces as large as 1,500 square feet, drastically transforming your indoor air quality.
Field Controls' UV-Aire whole house induct UV light air purifier features a powerful, energy-efficient UVC germicidal lamp to purify the air by neutralizing harmful germs, bacteria, viruses, mold, and fungi. It's a proven, effective method to keep the air in your home clean, pure, and fresh.
Ask us about our client exclusive Proclean UV-GE12 model from Field Controls.
New Products
REME HALO Whole-Home Air Purifier
The REME Halo whole-home in duct air purification system is an innovative purification product that utilizes hydrogen peroxide ions that can kill up to 99% of airborne germs, bacteria, and viruses.
With a recently improved and redesigned model, the REME Halo features a high ionized hydroperoxide output that has a faster kill rate when it comes to disinfecting surfaces in your home or business. Drawing its cleansing inspiration from nature, this air purification system will have you breathing easier in no time.
HALO-LED: Mercury Free & Zero Ozone Compliant
The HALO-LED model is a mercury-free and zero ozone compliant purification model that cleanses indoor air environments from smoke, odors, dust, and microbes. With a LED core that provides a 2.5X longer lifespan than the basic REME HALO model, the HALO-LED has a cell module core that includes the industry's first washable catalyst for optimal function. If you're looking for longevity and function, the HALO-LED model is right for you.
Add UV Lights to Your Current HVAC Unit Today!
Call ProClean today for a complete HVAC System
Disinfection and Cleaning
Whole-Home Air Purification with UV Germicidal Lights Installed Directly in your HVAC Unit
UV germicidal lights eliminate germs and viruses that can compromise the health and safety of your indoor air environment. Viruses such as the Coronavirus can pose a complicated issue for businesses and residents living and working in Reston VA, Bethesda MD, Leesburg VA, and surrounding areas. HVAC UV light technology can combat these viruses and make your home or business clean and sanitary by killing up to 99% of viruses on the surface. In addition to its bacteria and mold killing functions, whole-home air purification can be easily installed into your HVAC unit to reduce odors and other VOCs that are odor offensive.
At Proclean Air Duct and Carpet Cleaning, we offer NADCA certified services that you can trust. With over 35 years of experience fighting viruses and other harmful contaminants, we've gained a reputation for quality service that is friendly and professional. For jobs both big and small, we have the highest standard of service and dedication to providing you the sanitary indoor air environment that you deserve!
Contact

PRO

CLEAN
Proclean, an air duct and carpet cleaning services company, is a local family owned business. In business for over 35 years, we are one of the most experienced professional air duct cleaning and carpet cleaning companies in the Washington Metropolitan area, specializing in both residential and commercial properties.
Address
---
MD Office:
416 E Diamond Ave, Gaithersburg, MD 20877
VA Office:
44675 Cape Court, Suite 150-D, Ashburn, VA 20147