Home Disinfection Services in Gaithersburg, Rockville, Bethesda, MD, Ashburn, Leesburg, Sterling, Reston, VA, & Surrounding Areas
At Proclean Air Duct and Carpet Cleaning, we have over 35 years of experience providing homes in Ashburn VA, Bethesda MD, Leesburg VA, and surrounding areas with cutting edge home disinfection services that get the job done right the first time around. With a reputation for quality service, our professional technicians are up-to-date on the most recent and innovative methods when it comes to aerosol fogging disinfection. Keeping you informed every step of the way; we have your best interests at heart when it comes to creating a safe environment for you and your loved ones.
Do you need office disinfection services as well? Proclean is available to provide disinfection services for both residential and commercial buildings.
GET QUOTE
Home Disinfection Services: Coronavirus Disinfection
The outbreak of the Coronavirus, COVID-19, has caused a global pandemic that has families re-evaluating their approach to home disinfection. Whether you're looking to clean up your home after quarantine, or taking preventive measures to ensure the safety of your loved ones, we've got you covered. With professional Coronavirus disinfection technology, it's our goal to kick Coronavirus out of your Maryland or Virginia home by utilizing EPA approved germicidal cleaners that combat the virus and leave your home feeling and smelling great!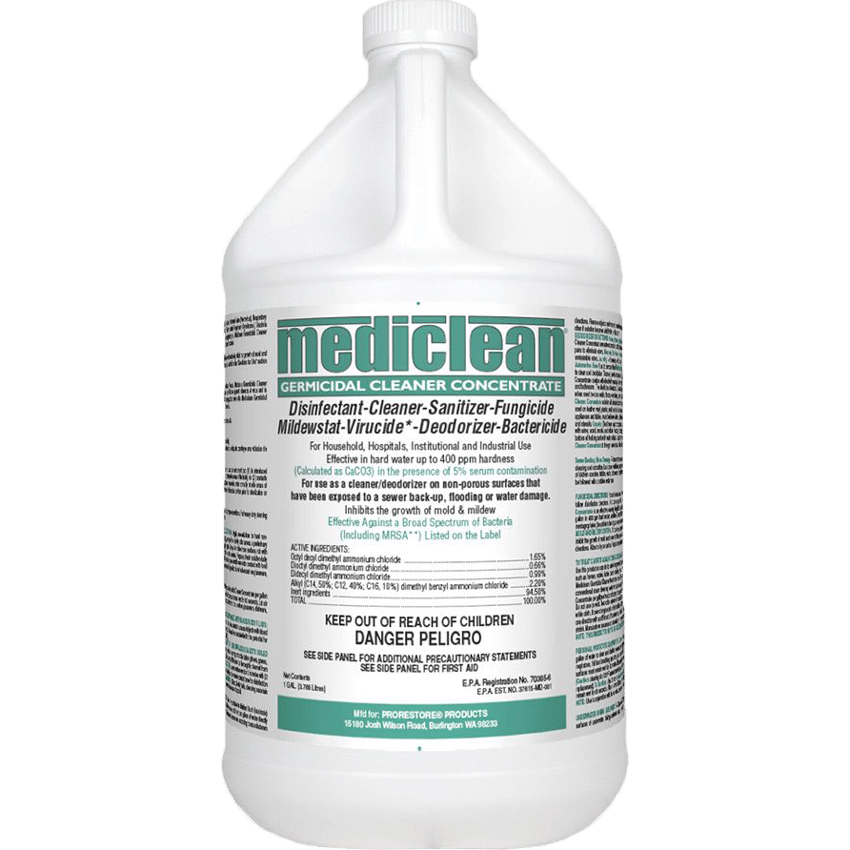 Mediclean is a germicidal, heavy-duty cleaner that we use for our home disinfection services. Combating viruses and germs, this disinfectant and deodorizer is EPA registered as a virucide, disinfectant, sanitizer, fungicide, and mildewstat. In addition, Mediclean is Human Coronavirus and SARS Associated Coronavirus (SARS) registered, making it one of the most potent weapons against the coronavirus.
Mediclean Germicidal Concentrate Functions:
Kills HIV on pre-cleaned environmental surfaces.
Countertop and floor disinfection.
Ultrasonic bath disinfection.
Deodorizing properties that combat sewer backup, carpet odors, automotive odors, etc.
Mold and mildew control features, and more!
Don't Risk It – Get Professional Home Disinfection
Call ProClean today for a complete HVAC System
Disinfection and Cleaning
Aerosol Fogging Home Disinfection for residents in Maryland and Virginia
At Proclean Air Duct and Carpet Cleaning, we use safe and effective aerosol disinfection services to rid homes of viruses and other harmful contaminants that compromise the air quality and safety of your home. Using aerosol fogging technology we combat germs and viruses, such as Coronavirus, that can be life-threatening. As a local, family-owned business we are dedicated to providing you with professional home disinfection services that are:
Licensed
Insured
BBB Accredited
NADCA Certified
Our technicians are armed with the tools and expertise needed to disinfect your home and promote a healthier environment for you and your family. By utilizing state-of-the-art EPA approved Mediclean germicidal concentrates, viruses don't stand a chance! To learn more about our aerosol fogging home disinfection services in Rockville MD, Sterling VA, Gaithersburg MD, Reston VA and surrounding areas, contact us today!
Contact

PRO

CLEAN
Proclean, an air duct and carpet cleaning services company, is a local family owned business. In business for over 35 years, we are one of the most experienced professional air duct cleaning and carpet cleaning companies in the Washington Metropolitan area, specializing in both residential and commercial properties.
Address
---
MD Office:
416 E Diamond Ave, Gaithersburg, MD 20877
VA Office:
44675 Cape Court, Suite 150-D, Ashburn, VA 20147