Commercial Carpet Cleaning and Office Carpet Cleaning in Ellicott City, MD
At ProClean Air Duct & Carpet Cleaning, we are proud to provide businesses in Ellicott City, Maryland, and the surrounding areas with commercial carpet cleaning services. No matter how big or small the project, we're here to ensure that your carpets are clean and sanitary 24/7.
Contact us today for a free quote!
GET QUOTE
Commercial Carpet Cleaning in Elliott City, MD
We know that having clean carpets not only helps your business look better, but promotes a cleaner and more healthy environment. Much like other soft materials, carpets trap dust, debris, and other particles that can be harmful to your health. While frequent vacuuming can remove some of the dirty particles we recommend that you have your carpets professionally cleaned every 6 months to a year, depending on the size of your space and the number of employees.
Our commercial carpet cleaning process includes:
Arrival– Our team arrives on time and prepared with all the right technology and materials for office carpet cleaning. We even wear shoe coverings and confirm work before starting the process.
Application- We apply our odorless, safe, and natural carpet cleaning solutions that penetrate carpet fibers and bring dirt and debris to the surface for removal.
Extraction– We use professional buffers to extract dirt from your commercial carpets.
Grooming– Once extraction is completed, we groom your carpets (if necessary) with a specialized carpet rake that makes your carpets look great.
Satisfaction– We guarantee the quality of our work, and run through the final results ith you to ensure satisfaction.
Learn More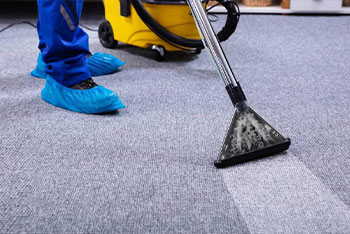 Office Carpet Cleaning for Ellicott City, Maryland
As a prominent part of the Baltimore Metropolitan area, Ellicott City, Maryland is a pleasant and historic town. Home to the oldest surviving train station in the USA, visitors, and residents enjoy plenty of opportunities to explore the area's historic charms. With a dense suburban feel and several shops, parks, and restaurants, Ellicott City has been called one of the best places to live in the state–it's no wonder why Ellicott City continues to grow in population each year! But more than a great place to live, Ellicott City is an ideal place to start a business and establish your empire.
At ProClean Air Duct & Carpet Cleaning we are proud to provide professional office carpet cleaning services to Ellicott City, MD, and the surrounding areas. With over three decades of experience and an A+ rating from the BBB, we go above and beyond to provide you with safe, effective, and thorough commercial carpet cleaning for your Ellicott City business. Worried about slow drying times? Our office carpet cleaning services enable you to use your carpets immediately, so you can get back to work ASAP.