Affordable Air Duct Cleaning Services
Take Advantage of One of Our Online Specials Today!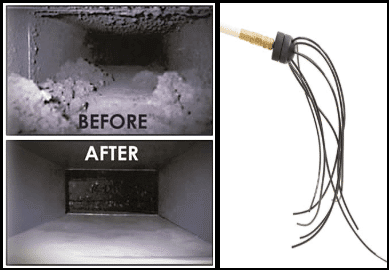 Affordable air duct cleaning in Sterling, VA, does more than improve indoor air quality; it helps keeps people safe. Airborne bacteria, mold, allergens, and other contaminants can all build up in the air ducts, circulating every time the air conditioner cycles.
You might think that you'd notice a smell coming from the duct system. However, "infected" air smells remarkably similar to clean air in the early stages. You'll only start to notice a musty smell if you neglect vent cleaning and the mold has a chance to grow.
Regular inspections, vent cleaning, and air duct mold cleaning are the best way to ensure that your air is safe for your home or employees. Proclean Air Duct & Carpet Cleaning offers a range of air duct and dryer vent cleaning services to purify the air in your space.
Coupons for Air Duct Cleaning in Sterling
Speak to the team at Proclean Air Duct & Carpet Cleaning about our affordable air duct cleaning packages in Sterling, VA, today and experience the outstanding service you deserve. Our team is standing by to advise you on the ideal schedule for air duct cleaning services.
With our assistance and air duct mold cleaning regimen, you know that you and those important to you can breathe clean air. Reduce the potential for illness, allergies, and asthma by clearing out potentially harmful components today.
Our duct cleaning and vent cleaning services include:
A thorough inspection of your air ducts and vents, including tests for mold
Air duct mold cleaning with environmentally safe products that destroy spores
Disinfection using EPA-approved sanitizers to combat airborne bacteria and contaminants
Affordable Air Duct Cleaning Services in Sterling, Virgina
Since 1988, Proclean Air Duct & Carpet Cleaning has kept the Sterling, VA, community safe with thorough air duct cleaning. Our effective and efficient protocols remove dirt, dust, allergens, mold, and other microscopic contaminants from your ductwork.
Sterling, VA, is a small town perfect for people who love the outdoors. Claude Moore Park is a popular spot on a hot Virginia day, with the recreation center attracting kids of all ages. Of interest for history buffs is that the undeveloped portion of the historic Vestal's Gap runs through the park.
For affordable air duct cleaning and sanitization, contact Proclean Air Duct & Carpet Cleaning today. Speak to our friendly consultant about the right package for your home, office, or business premises to clear the air.