Affordable Air Duct Cleaning Services
Take Advantage of One of Our Online Specials Today!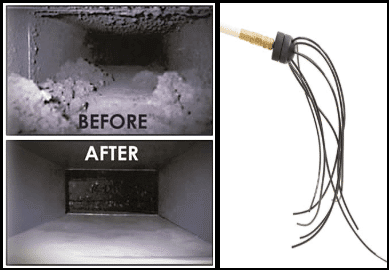 Many homeowners don't think about air duct cleaning when cleaning and maintaining their homes. However, the potential benefits of this task mean that it is essential. Affordable air duct cleaning services from ProClean Air Duct & Carpet Cleaning can make a significant difference in the efficiency and health of your home or business, ensuring improved indoor air quality.
Since 1998, residential and commercial customers in Rockville, MD, have turned to ProClean for professional air duct and dryer vent cleaning. With over three decades of experience, we have developed efficient, effective, and eco-friendly processes to remove dust, allergens, mold, and other contaminants from the duct system.
You can trust our highly-trained and experienced technicians to do the job right the first time with 100% satisfaction.
Make An Appointment
Coupons for Air Duct Cleaning in Rockville
Are you looking to save money on professional air duct mold cleaning? Then, you should take advantage of our various special offers. We even offer select discounts or coupons for air duct cleaning to help our customers save money while maintaining clean air in their homes and businesses.
Our professional air duct and vent cleaning services include:
Regularly-schedule cleaning
Duct Sanitization
Complete deep cleaning
Coil and blower services
Treatment of mold
We use state-of-art industry-grade equipment and non-toxic EPA treatments to eliminate mold and safely treat your ductwork to prevent regrowth. To ensure exceptional quality work, our air duct mold treatment process includes:
Air duct inspection and testing for mold presence
Drying the areas with moisture in the air conditioning system
Disinfection and cleaning of all the air ducts and vents
Eliminating airborne elements using dynamic equipment and EPA-approved disinfecting agents.
Affordable Air Duct Cleaning Services in Rockville, Maryland
Rockville is the county seat of Montgomery County, Maryland, and part of the Baltimore–Washington metropolitan area. The city is Montgomery County's fifth-largest community, with about 67,117 residents as of the 2020 census.
Initially known as Hungerford's Tavern, the city adopted the name "Rockville" in 1801 due to its proximity to Rock Creek. Since its establishment, Rockville has experienced rapid growth from a leisurely, agriculturally-oriented town to a cosmopolitan city with numerous neighborhoods.
If you need affordable air duct cleaning in Rockville, Maryland, ProClean has affordable solutions for you. At ProClean, we're here to help you achieve 100% satisfaction with your indoor air quality. Contact us by telephone or our convenient online form to schedule a consultation for air duct cleaning, get a free quote, and more.