AFFORDABLE AIR DUCT CLEANING SERVICES
Take Advantage of One of Our Online Specials Today!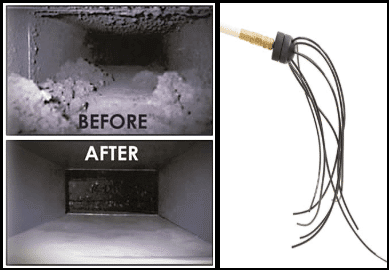 It is important to keep your air ducts clean to protect your family's health. Dirt, mold, bacteria, and other contaminants build up in air ducts over time, and these can expose your family to health issues such as asthma, allergies, and other respiratory problems. You can help prevent these issues with affordable air cleaning services from ProClean Air Duct & Carpet Cleaning.
At ProClean, we have provided top-quality air duct and dryer vent cleaning services to residential and commercial customers in Gaithersburg, MD, for over three decades. You can trust us to meet your indoor air quality needs with 100% satisfaction.
Contact us by phone or web form to schedule an appointment for professional air duct cleaning in Gaithersburg, MD.
Coupons for Air Duct Cleaning in Gaithersburg
Do you want to save money on professional air duct mold cleaning in Gaithersburg? Then, don't hesitate to grab a coupon and get a discount on our air duct cleaning services. At ProClean, we have a range of special offers to help our clients save money while ensuring they maintain clean air in their homes and businesses.
Our full-service air duct and vent cleaning include:
Routine cleaning
Duct sanitization
Deep cleaning
Blower and coil cleaning
Mold removal
UV light package
Check out our coupons for air duct cleaning today and save some money on your indoor air quality needs. We use a powerful, industrial-grade High-Efficiency-Particulate-Air (HEPA) vacuum to clean your air duct system by connecting it to your property's largest main duct. Using industrial-grade equipment ensures exceptional cleaning quality.
Affordable Air Duct Cleaning Services in Gaithersburg, Maryland
The City of Gaithersburg is in Montgomery County, Maryland. It is the state's ninth-largest location, with about 69,657 inhabitants, according to the 2020 U.S. Census. The city dates back to 1765, when it started as a small agricultural settlement called Log Town.
The town officially adopted the name "Gaithersburg" after its incorporation in April 1878. Gaithersburg derives its name from Benjamin Gaither, who constructed a house in 1802 on the property that previously hosted the famous Forest Oaktree.
If you need affordable air duct cleaning services in Gaithersburg, we're here to help at ProClean Air Duct & Carpet Cleaning. With over 35 years of experience, we have the expertise and equipment to clean your duct system with complete satisfaction.
We specialize in both commercial and residential properties. Contact us by phone or web form to schedule an appointment and get a free quote.